Submitted by: Tom Podnar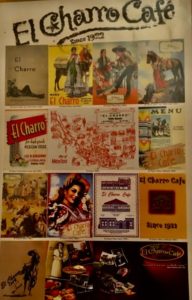 In 2014 I came from Cleveland, Ohio to Tucson for a project. Imagine my surprise and delight to find the El Charro Cafe for dinner. Just as wonderful as depicted on the vintage menu artwork poster that I took home was the warm friendly atmosphere and the most unique dish I have eaten, Carne Seca! The picture in the menu showed how it is made inside screened boxes on the roof and the taste when it came to the table was so good! Onion, chilis, lime, and Carne Seca!!!! YUM!!!!!!
Thank you for a memorable time and a memorable taste!