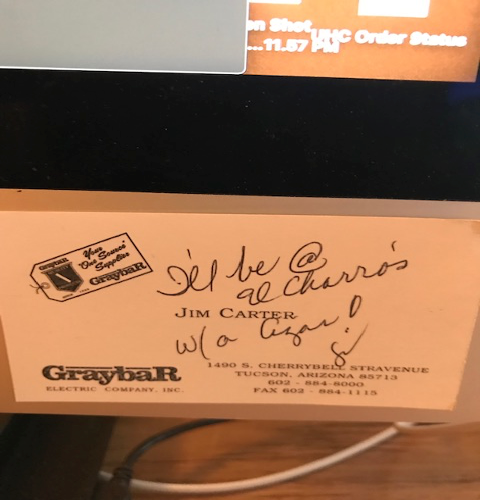 Submitted by: Jim Carter and Terry Carter
My brother-in-law, Jim Carter used to say, "I ate at El Charro before I was born". His mother was a waitress there in 1942 when she was pregnant with him.
When he was in his teens, he used to order 12 tacos for dinner and eat them all! He remembers Carlotta dancing for the family on Sunday nights when he had dinner there with his Grandmother and sister and also remembers Monica Flynn and the parrot that used to sit on her shoulder.
When he worked at the City of Tucson in the early 60s, he would walk to El Charro for lunch and they would see him coming and have his lunch ready when he arrived.
When he worked at Graybar Electric, he used to take his customers there for lunch regularly and El Charro featured his lunch choice as a menu item for a couple of years., "Carter Special". Many of his customers went back to El Charro again and again.
After he retired from Graybar, he used to meet his wife Terry Ronstadt-Carter at Bar Toma after work and enjoy beers and later dinner in the restaurant.
He has many fond memories of El Charro, Ray, Carlotta, Ray, Jr., Marques, Candace, Lenny and Wilma and many waiters and waitresses.
Please see photos below.
Thanks, submitted by sister-in-law
Bernadette Ronstadt-Quiroz